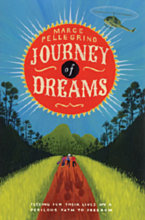 Journey of Dreams
2009
Frances Lincoln Publishers Ltd, London
This is the story of how one family survives the Guatemalan army's 'scorched earth' campaign in the 1980s and how, in the midst of tragedy, suspicion and fear, their resilient love and loyalty – and Papa's storytelling – keeps them going. On their harrowing journey as refugees to the United States, the dramatic ebb and flow of events are mirrored in the tapestries of one daughter's dreams.
"An involving read, strong in the celebration of Mayan-inflected folklore and culture." — Financial Times
Journey of Dreams won the Libraries Ltd 2009 Judy Goddard Award for young adult literature in December at a luncheon at the Arizona Library Association's conference. It earned a stared review in Kirkus.
Journey of Dreams is also included in:
*Independent children's booksellers 2009 "ABC Best Books for Children"
*Kirkus Magazine's "Best Books of 2009″
* Southwest Books of the Year 2009
*Smithsonian Notable Books for Children 2009
*CCBC (Cooperative Children's Book Center) Choices 2010
*US Board on Books for Young People (USBBY) honor list of international books for 2010
*Chicago Public Library: One Book, One Chicago Further Reading Recommended list posted March 2010
*Americas Award Commended List, June 2010
*Florida Department of Education's Hispanic Heritage Recommended Reading list
*Featured on Vamos A Leer, a blog of the Latin American & Iberian Institute at the University of New Mexico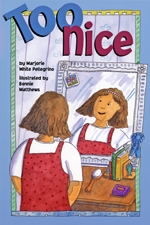 Too Nice
(Also available in Polish, Korean, Chinese and Arabic)
2002
Magination Press
"You're too nice," says Amy's best friend, Kate. Amy's not sure what "too nice" means, but she sure knows how it feels: rotten. She's tired of giving her things away, tired of getting stuck with the jobs nobody wants, and tired of feeling angry and sad. But with a little help and practice, she starts learning how to be friendly yet take care of herself at the same time. Soon she discovers that when she stops being "Too Nice Amy," everyone is happier: including Amy!
Purchase from Magination Press
Curriculum ideas for Too Nice [pdf]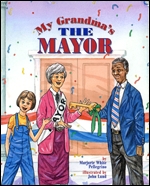 My Grandma's the Mayor
1999
Magination Press
Annie's grandmother used to be lots of fun, but things have changed. Now Grandma is the mayor, and she doesn't have much time to spend with Annie anymore. With Grandma suddenly very busy and important, Annie feels left out. But late one night, after a terrible fire breaks out in a neighborhood apartment building, Annie comes to feel proud of her capable, caring grandmother—and of herself, too! Young readers will cheer for Annie as she discovers her own community spirit and the pride and pleasure that come from giving of oneself.
Purchase from Magination Press
Curriculum activities for My Grandma's the Mayor [pdf]
View Catch the Spirit! on YouTube for the story behind the book!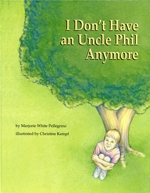 I Don't Have an Uncle Phil Anymore
1998
Magination Press
How does a child cope with loss and grief? In this moving story for children of all ages, a young boy gets the news that his adored Uncle Phil has died unexpectedly. Told through the eyes of a child, the story describes many traditions and social rituals associated with death, and addresses a wide range of feelings and questions. As his mother attempts to explain death to the boy, he finds his own uplifting way to grieve for Uncle Phil.
Purchase from Magination Press  http://www.apa.org/pubs/magination/4415596.aspx
Curriculum activities for I Don't Have an Uncle Phil Anymore [pdf]

The Folded Spiral in the Classroom: Circular Bookmaking Across the Curriculum
with Joan Daniels
1996
Folded Spiral Press
This engaging curriculum makes the perfect classroom companion. Purchase The Folded Spiral in the Classroom by emailing independent bookseller: Antigone Books