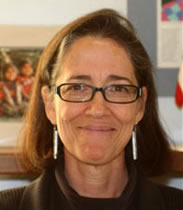 Marge Pellegrino jumped out of business and into writing world in 1984. Passionate about sharing the power she's found in words, Marge leads writers of all ages in workshops that make them think in new ways and discover their own voices.
Contact Marge: e-mail
Awards and honors
As a teaching artist, Marge has been nominated for the Tucson Pima Arts Council's Lumie Award 2008, Governor's Award 2009 and named Local Hero by the Tucson Weekly, December, 2006. Juried member of the Arizona Commission on the Arts Artist Roster, 1998-2014.
Marge has facilitated and coordinated programing for the Owl & Panther project of The Hopi Foundation since 1999. The program was a finalist in the 2015 Out-of-School Time Awards of Excellence by the Arizona Center for Afterschool Excellence. Owl & Panther was also a finalist in the National Arts and Humanities Youth Program Award in the spring of 2016.
Marge developed and facilitated the Word Journeys program at the Pima County Public Library for twelve years. The program was a finalist for the President's Committee on the Arts and Humanities' Coming Up Taller Award for excellence in afterschool programming in 2007 and won that distinction in 2008.
Marge's work with KARE Center and Owl & Panther resulted in comics published by The Comic Book Project Tucson I Am a Super Hero edition that touched on foster care and refugee flight respectively.
Writing awards include
Judy Goddard young adult literature award, 2009.
Personality profile, AZ Press Club Award, 2007.
Second Place Poetry, SandScript Literary Journal Spring, 2003.
Writers Digest, Memoirs/Personal Essay honorable mention, 2002.
SouthWest Writers grand prize Storyteller Award and 1st Place in YA Fiction, 2002.
Articles about Marge

"Reconocen labor de Word Journeys" by Carmen Duarte for La Estrella de Tucsón, Jan. 9, 2009.
"Her goal is introducing children to libraries" by Carmen Duarte for The Arizona Daily Star, Jan. 2, 2009.
"Torture victims find strength" by Jane See White for The Arizona Daily Star, June 15, 2008.
"Kids create comics to put superheroes to work" by Carmen Duarte for The Arizona Daily Star, May 29, 2007.
"Mom manages to write, teach, volunteer, even bird-watch" by Asa Bushnell for The Courier.